> ようこそ Welcome | お知らせ News


ようこそ Welcome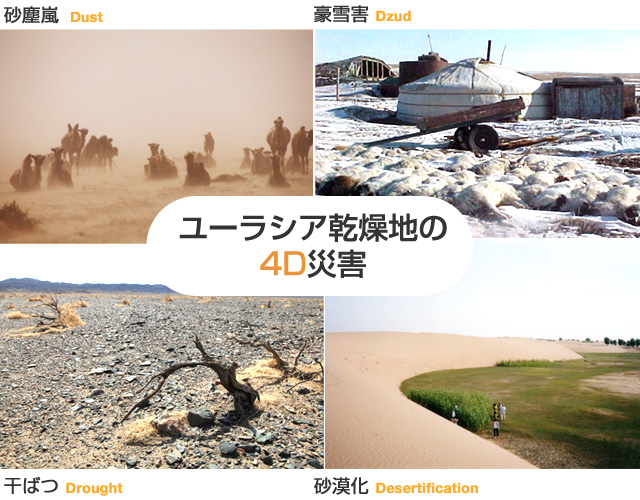 当研究室は、名古屋大学 大学院 環境学研究科 地球環境科学専攻 大気水圏科学系 地球環境変動論講座に所属しています。 世界の乾燥地における様々な課題(砂塵嵐、豪雪害、干ばつ、砂漠化など)を現地観測・現地調査から明らかにしています。

Our laboratory belongs to Global Environmental Variation Group, Hydrospheric-Atmospheric Sciences Course, Department of Earth and Environmental Sciences, Graduate School of Environmental Studies, Nagoya University. We have revealed various problems in the world's drylands (dust, dzud, drought, desertification, etc.) through in-situ observations and investigations.



お知らせ News

2019年1月24日 活動記録を更新しました。> 詳細はこちら
2018年12月27日 研究成果を更新しました。> 詳細はこちら
2018年10月3日 Nandiaさんの論文がScientific Reports (Nature)に掲載されました。
2018年7月24日 研究成果の一部が名古屋大のプレスリリースに掲載されました。 > 詳細はこちら
2018年4月20日 メンバー情報を更新しました。
2018年3月16~17日 鳥大・名大合同セミナーを開催しました。
2017年11月1~3日 国際ワークショップA-B-Eに参加しました。

24 January 2019 The Activities page were updated.
27 December 2018 The Publications page were updated.
3 October 2018 Dr.Nandia's paper was published on Scientific Reports(Nature).
24 July 2018 A part of our research outcome was published on the press release of Nagoya University. > More details
20 April 2018 The Members page was updated.
16-17 March 2018 We hosted a joint seminar between Tottori University and Nagoya University.
1-3 November 2017 We joined the International Workshop on A-B-E.